With over 52 years in the home build industry, Yankee Barn Homes has designed quite a few floor plans. We design an average of 30 homes a year. When multiplied by 52 years, the number of homes designed is in the range of 1,560. Each plan is a custom design with it's own unique features.
It's understandable we cannot feature all the designs on our website and it's reasonable we feature the newer designs. It only makes sense as home design is not stagnant. Ever evolving ways in which we live, combined with innovations in technology and products constantly push the envelope of what home design is. However, we've discovered a basic concept (say, a barn style home) that uses good design and good products will always achieve success. Sounds simple because it is.
At Yankee Barn, we design beautiful post and beam, partial post and beam, and now, completely panelized homes. A famous quote by Stephen Gardiner says it best, "Good buildings come from good people, and all problems are solved by good design." Yankee Barn Homes lives by this simple premise, and the staying power of our designs proves it.
Yankee Barn Homes Current Most Requested Designs:
Cabot Barn Home
The Cabot Barn Home is patterned after the quintessential Americana barn. It offers design versatility within the same exterior foot print. It allows three different layouts that provides from two to five bedrooms (when using part of the basement as space for two bedrooms). See photos and download the floor plans. See photos and download floor plans.
Hayfield
Hayfield offers a contemporary barn style home. Completely streamlined, using modern finishes inside and out, the Hayfield has everything one might want in a contemporary barn style home. See photos and download floor plans.
Hill House
If you love Mid-Century Modern style architecture in a thoroughly 21st Century design, Hill House is for you. The 2 bedroom, 2.5 bath design is perfect for downsizing in style and single level living. See photos and download floor plans.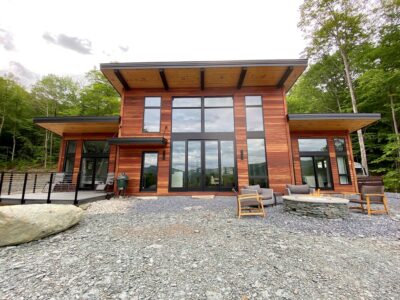 Springfield Barn Home
Designed in conjunction with Cottages & Bungalows and American Farmhouse Style magazines, the Springfield is a fresh take on the barn house/farmhouse style. Everything one could want in a modern farmhouse style home is offered in this plan. See photos and download floor plans.