At Yankee Barn Homes we build homes that embrace beauty, flexibility, energy efficiency and comfort.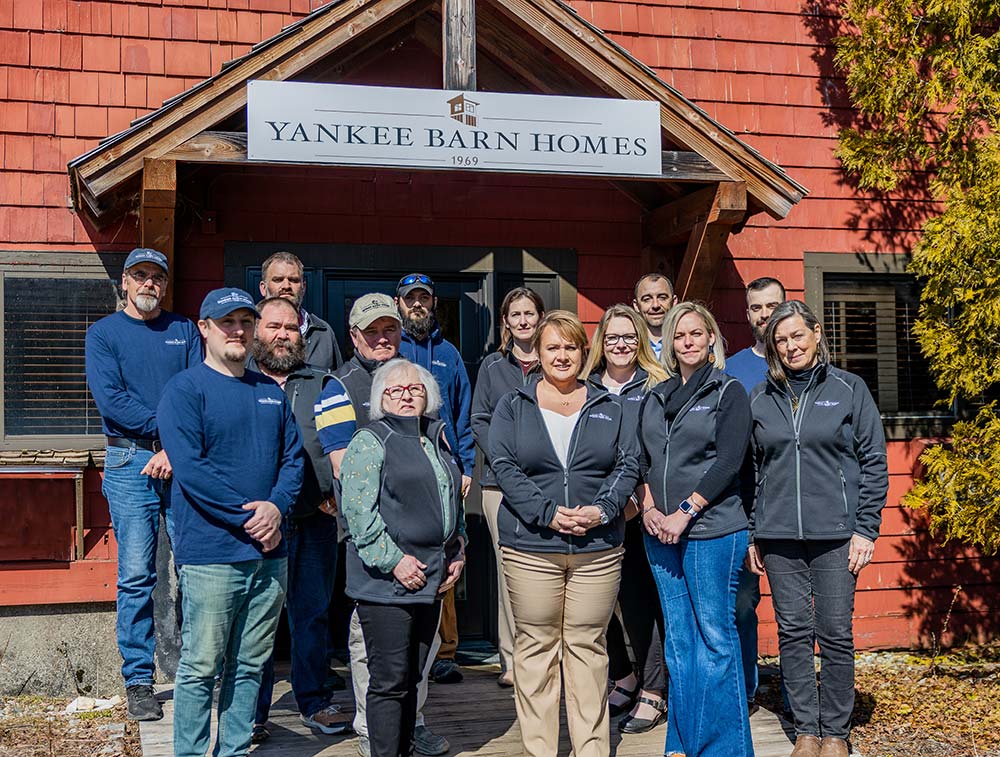 For over 50 years, Yankee Barn Homes has been designing and building custom post and beam homes built with the finest materials for durability, weather protection and energy efficiency. Our trademarked True Wall and True Roof™ Panels are built in our Yankee Barn Homes factory located in New Hampshire and offer total design and integration of your home shell package with your floor plan and post & beam frame. We have built homes from coast to coast and overseas and because of our panelized construction we can access remote areas and ship virtually anywhere.
Building a home can be an investment, a labor of love, and a vision manifested. Finding the right team to partner with can make all the difference. We work closely with our clients and utilize software for virtual meetings, 3D walk-throughs and renderings of your home design. We provide a dedicated project management portal to facilitate progress during the entire design and build process. Our team of dedicated professionals will assist you through pre-design, design, and construction while working with your local general contractor to ensure a smooth delivery and assembly of your home.
We provide a custom design process that produces schematics, progress plans, and construction plans for your building process.
Custom Design
Our design fee is credited to your shell package. No two Yankee Barn homes are exactly alike, as each starts with the vision of the homeowner.
Schematics & Progress Plans
Schematics & Progress Plans
A Building Specification report that outlines the precise components to be included in your Yankee Barn Homes Shell Package.
Construction Plans
YBH will create the construction plans that will include all of the details needed for builder pricing, production on our factory and permitting.
Home Shell Package
Includes your True Wall and Roof panels with insulation, timber frame, windows, 2nd floor decking, exterior Zip system and full construction plans.
Additional Options
Options include; upgraded insulation, upgrade window packages, decorative cupolas or towers, Structural Engineer sealed plans, YBH Crew to assemble on-site.
Planning your Custom Home with YBH
 Working with an architect can cost a significant percentage of your budget. If you use a design/build firm, you have less flexibility to compare pricing from several builders. With Yankee Barn Homes, the custom design fee is purposely low and part of your Home Shell Package.  This allows you to compare builder costs when you are ready and integrate a true post and beam frame into your design.  Our homes can be full timber frame, partial or a hybrid depending on your needs and desired aesthetics. A Post and Beam structure allows for a flexible floor plan and volumes of open space.
Along with your construction plans, your custom design will be built with a panelized construction process in our weather-controlled factory. The benefits of building in this manner include minimal construction waste in pristine or coastline environments, access to remote areas for easy delivery, and increased energy efficiency with our trademarked True Wall and Roof Panels.