Post-and-Beam Home Construction
Saves Clients Time and Money on the Job Site
Due to our unique panelized shell construction process, much of the post-and-beam building work is done ahead of schedule in our shop. The Douglas-fir timbers are kiln-dried, pre-cut, and pre-stained to allow for a faster build. Yankee Barn Homes uses our True Wall and True Roof™ Panel System, constructed at our production facility.
This post-and-beam construction system saves our clients both time and money on the job site, as all the parts are shipped directly to the job site with minimal assembly required. This prefabrication process allows us to build custom homes faster while ensuring that all components are of the highest quality possible.
Whether you want a cozy cabin, an energy-efficient home, or a multilevel estate, post-and-beam home construction can make it happen. Contact us today to get started on your dream home! We look forward to helping you build the perfect home with Yankee Barn Homes. Together we will create a beautiful and lasting structure you can enjoy for generations. Let us help you turn your dreams into reality!
2×6-premium lumber is brought to the pre-cut station. Each piece is precision cut in accordance with shop drawings. Once cut, the materials are labeled, stacked, and made ready for production.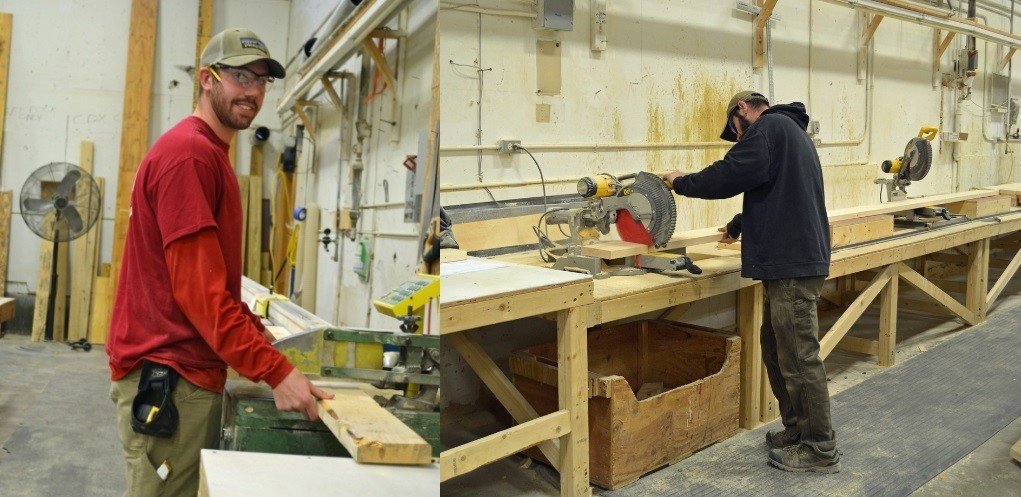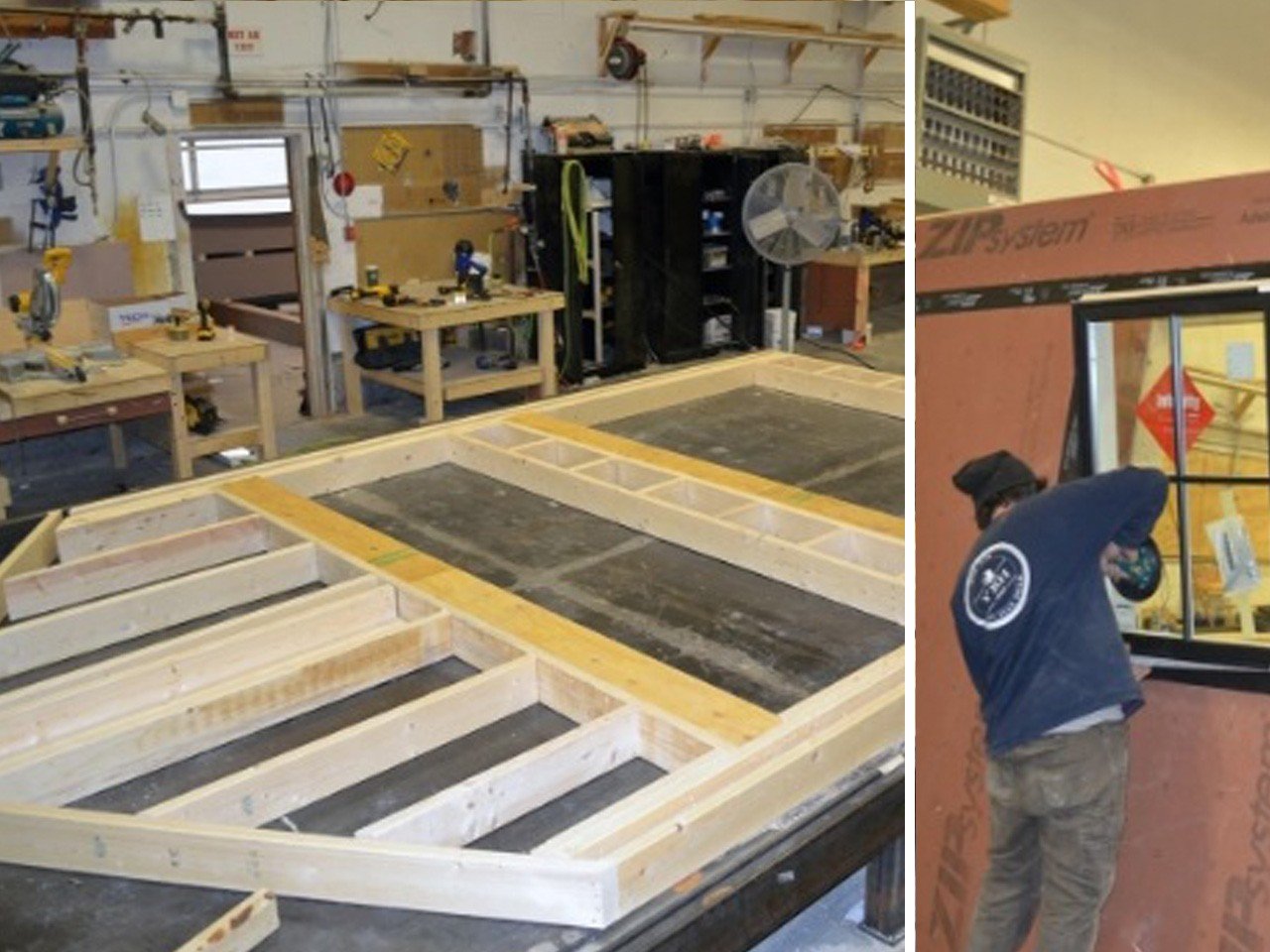 Pre-cut material goes to the wall panel table for assembly. The table is a specialized unit that ensures each panel is square. Once the skeleton is built, ½" Zip sheathing, environmentally-friendly polyiso insulation and windows are installed and flashed.
Pre-cut rafters are brought to the assembly table. The framing of the roof panel is much the same as the wall panel with sheathing, insulation and framing. Additionally, roof panels require multiple layers of insulation as higher R-Values are stipulated per building codes. Interior roof finish material is installed.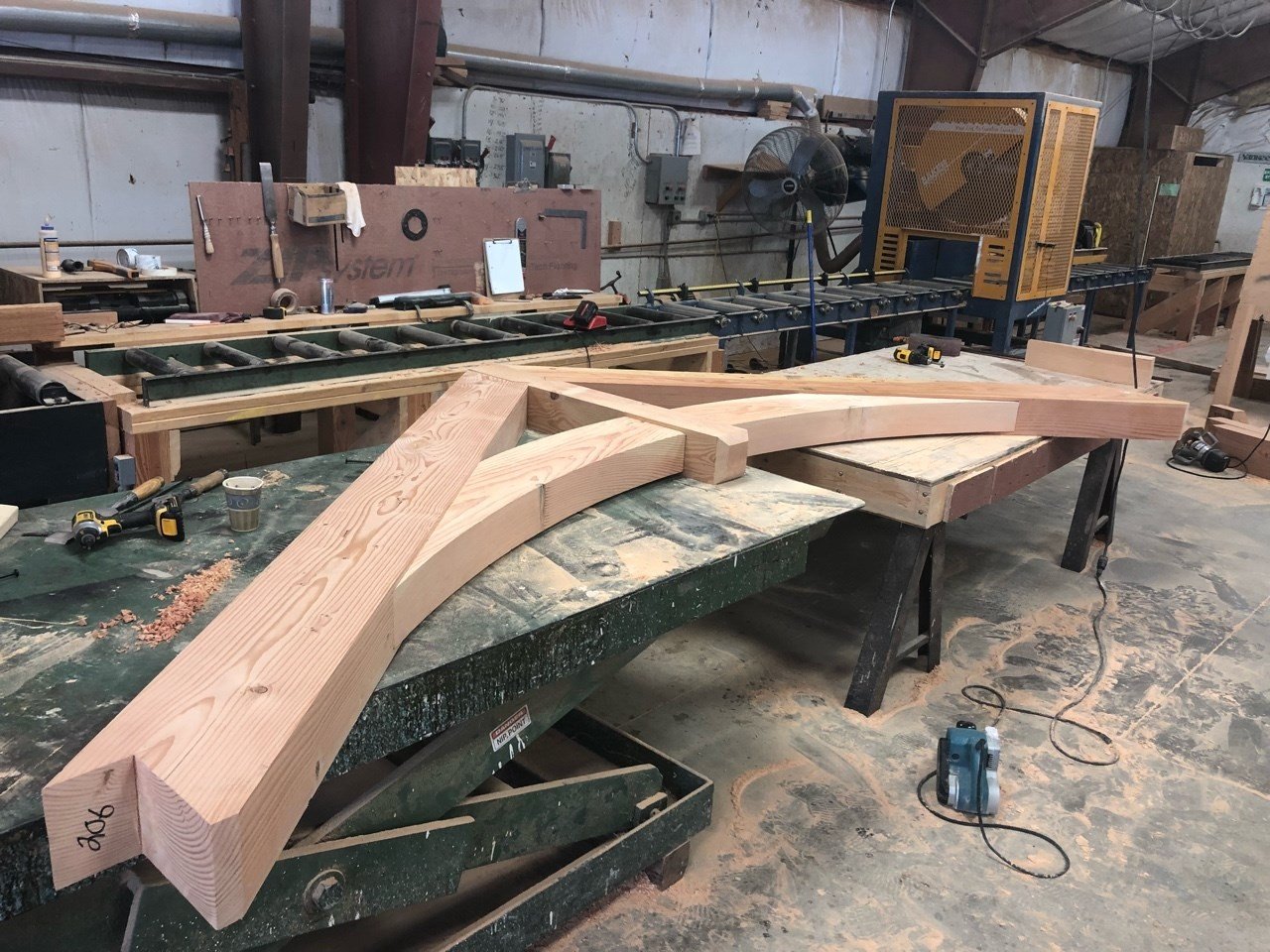 The timber frame is cut in two stages. First, large industrial saws are used, and then skilled craftsmen hand cut the fine detailed notches. Once all cuts are finished, sanding and staining occurs. Finally, timbers are carefully wrapped and packaged for shipment to the build site.
Here we frame the roof panels and square them up. Each panel receives energy-efficient plastic and strapping. A steel fence is then pulled up around the panels, ensuring that each panel is perfectly square.
Then the Interior V-Groove is installed. The roof panel is flipped over and super energy-efficient insulation is installed, followed by the plywood installation.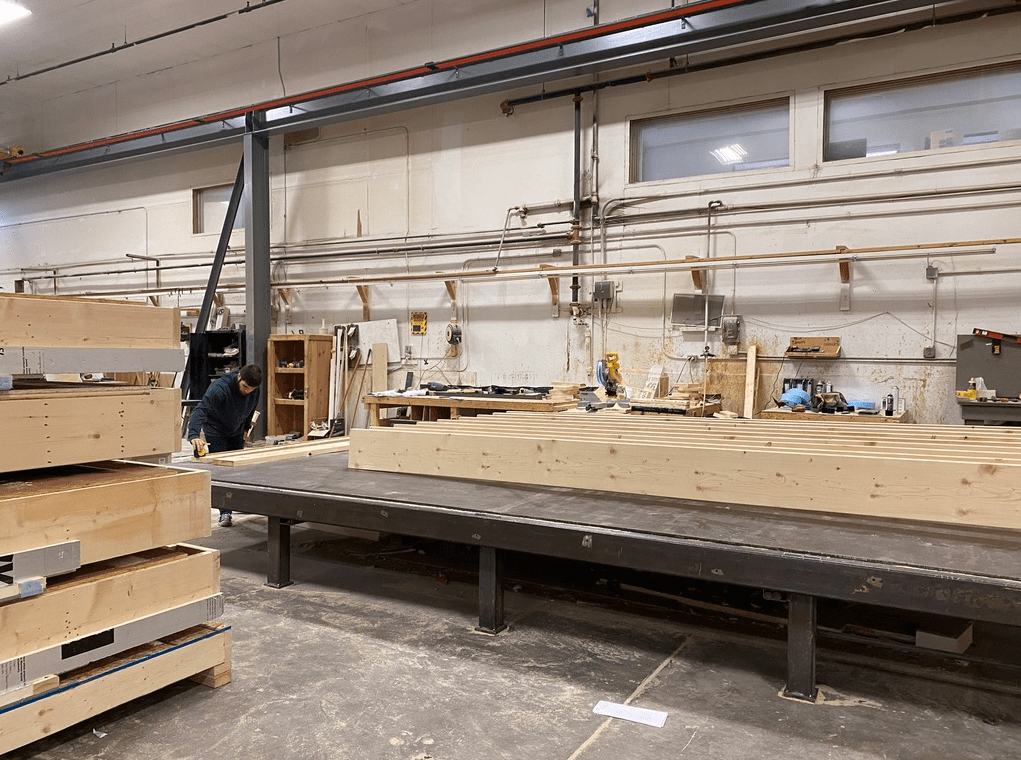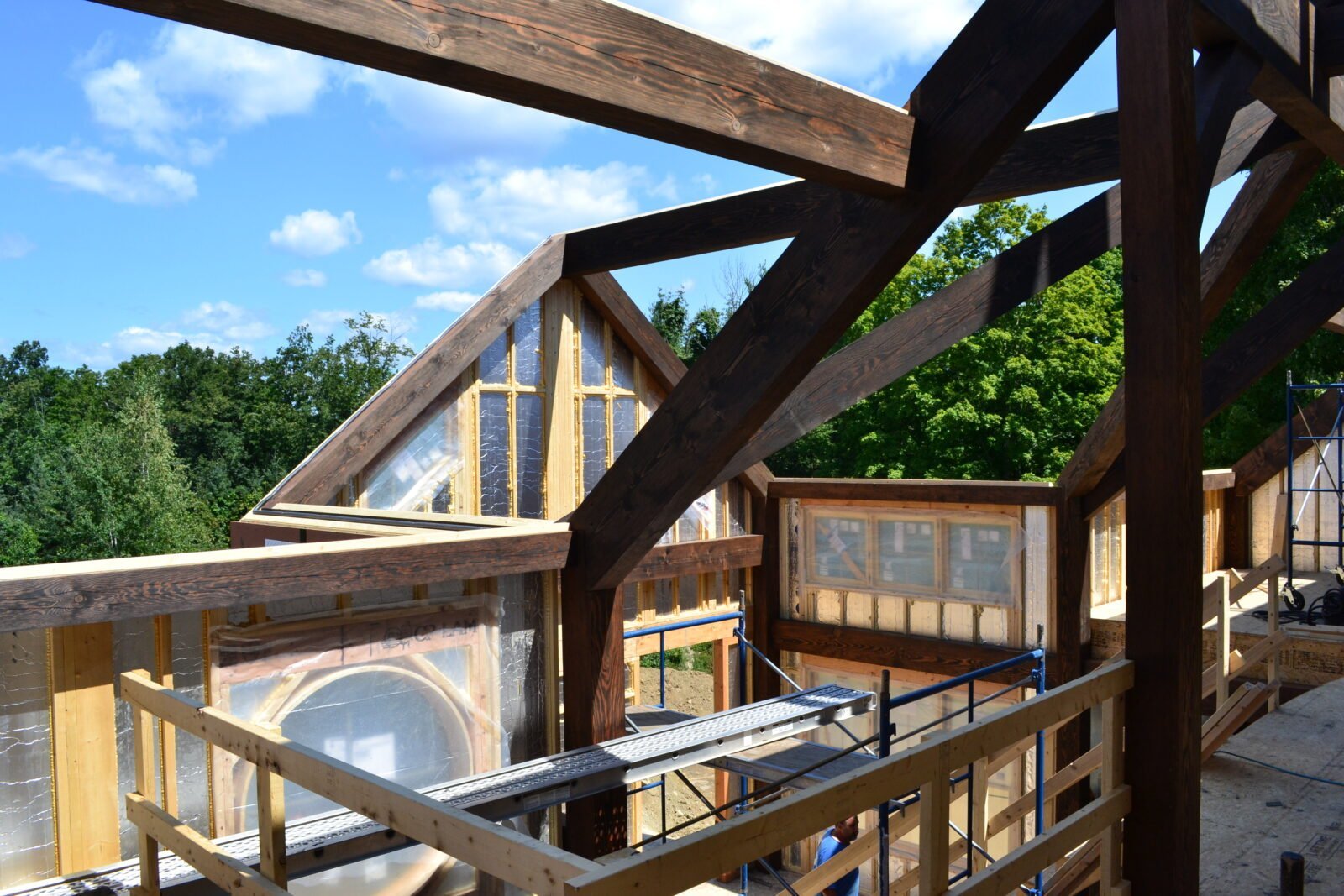 Assembling the Shell Package
Components arrive by truck to the build site. Since the frame is already cut and notched in the Yankee Barn frame shop, the shell raising can proceed smoothly.
"A Yankee Barn goes up very easily, fits together well, and is substantially enclosed in a very short time period, even when it's built during the worst ice storm of the century," said builder Ken Desjardins.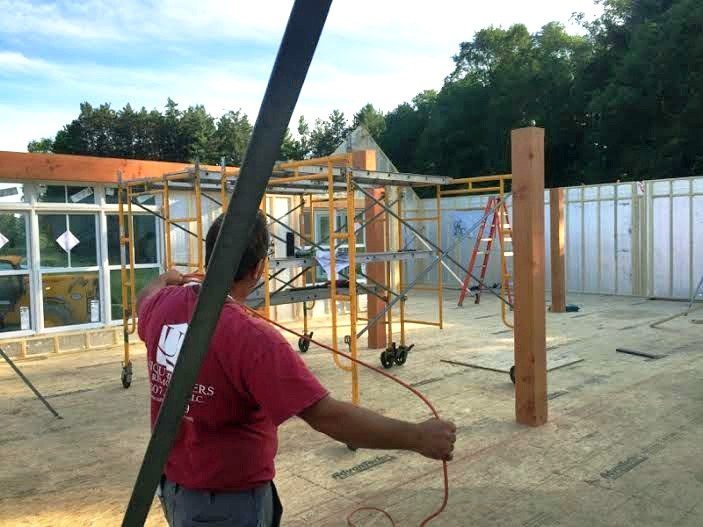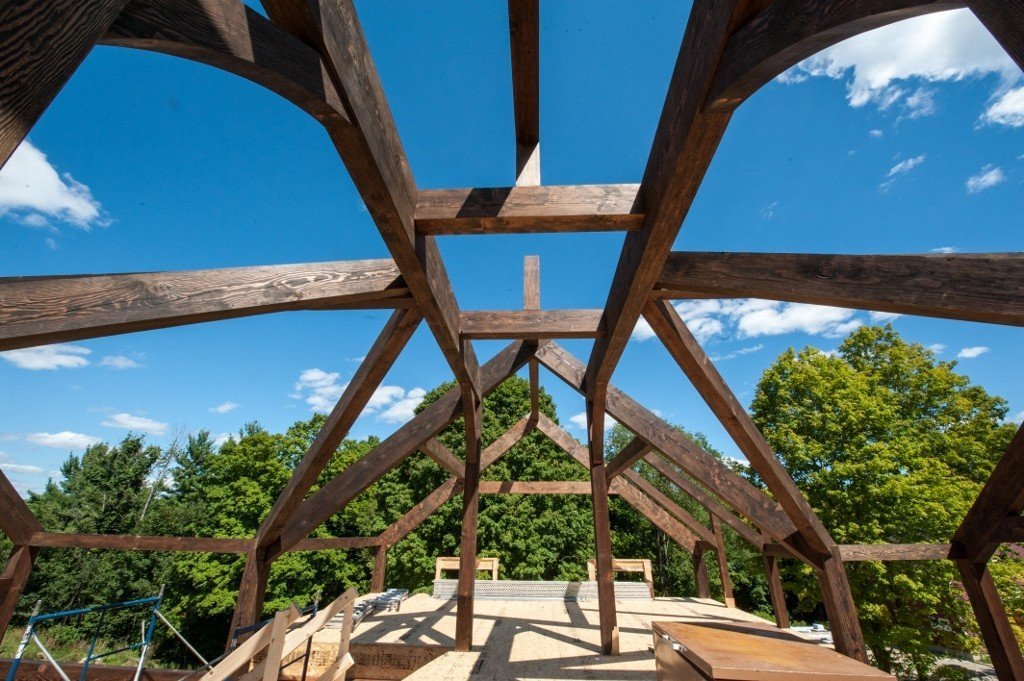 "Nothing compares to Yankee Barn quality, how fast the product goes up, and the floor plan flexibility. A Yankee Barn can look any way you want – a barn, a conventional house, or one with stone on the exterior. There are no limitations to the design."
The last of the True Wall panels are lifted into place. "Yankee Barn is flexible and helpful. On this project, we made some last minute changes on site. Yankee Barn worked with us to build the components to make it work."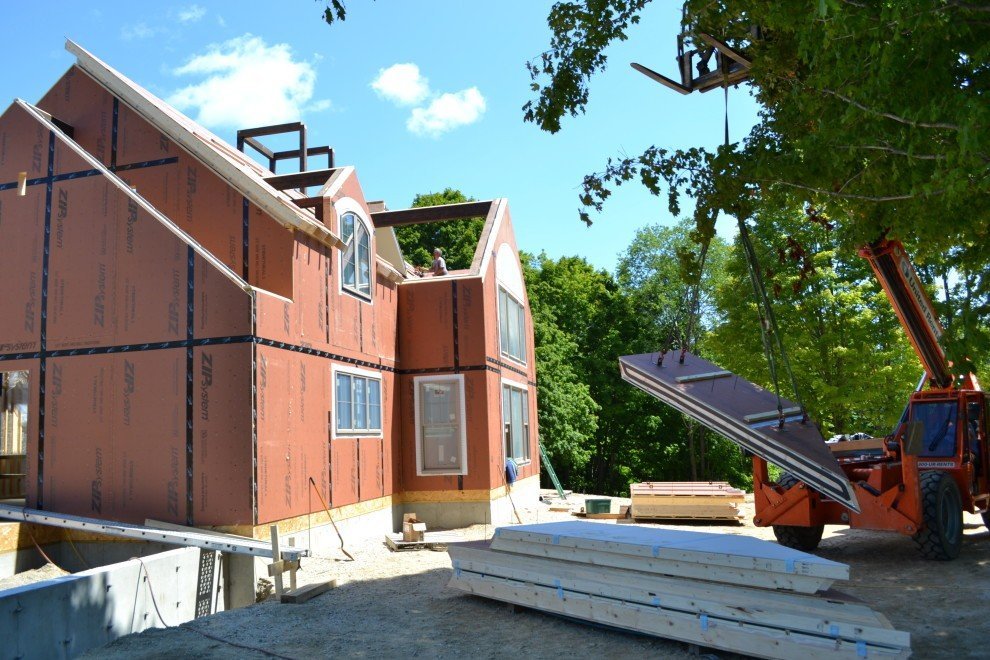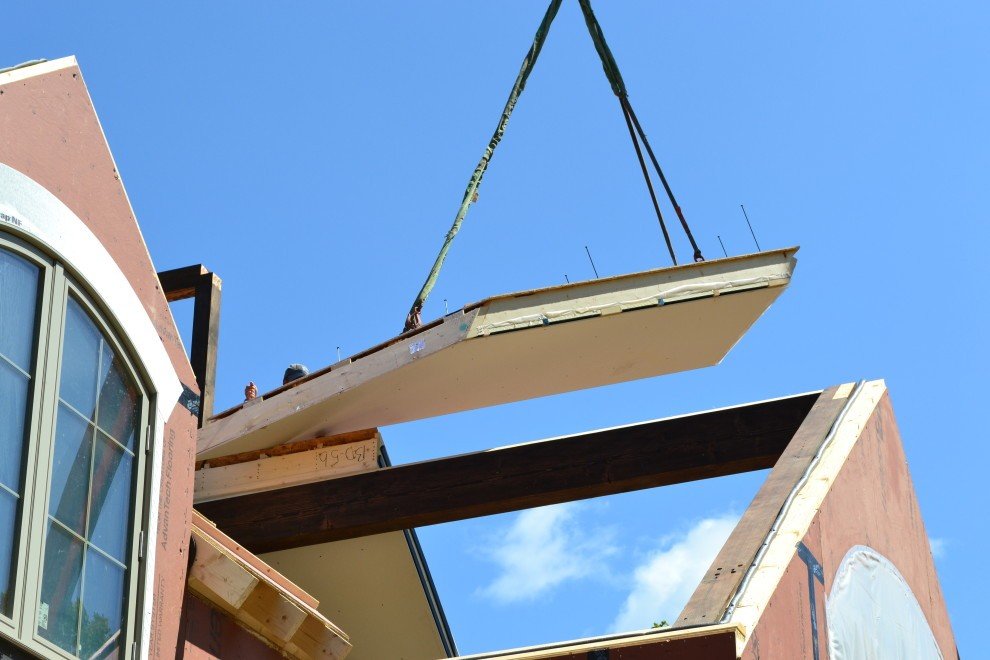 The True Roof ™ panels are in place for a tight shell.
"The shell was built easily in two weeks."