We have chronicled our barn house English Cottage since it began this past winter, and now we have finally reached the completion of this beautiful post and beam home, located in East Hampton, NY.  The wait was most definitely worth it. From the amazing kitchen to the lofted family room, every space you see will be you're new favorite. With all the cottage touches, including bleached beams and herringbone brick stucco fireplaces, you will not be disappointed. This smaller floor plan lives very large. But don't take my word for it; take a look and decide for yourself!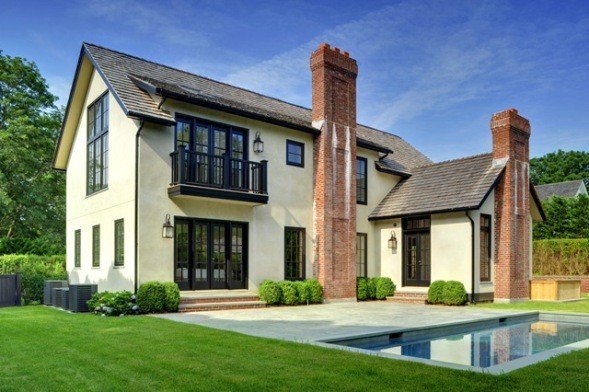 English Cottage Barn House Interiors
The  square footage of this barn house is not excessive, however don't let that fool you; this post and beam English Cottagehas everything you need, and then some!
English Cottage Barn House Floor Plans
After seeing the interior of this amazing cottage by Yankee Barn Homes and Jeffrey Rosen, I thought you might like to see the floor plans.
I hope you enjoyed seeing this new English Cottage from Yankee Barn Homes. Should you be interested in a gorgeous post and beam home in the beautiful town of East Hampton, NY, please contact Yankee Barn Homes, as the cottage will soon be on the market!
If you would like more information about Yankee Barn Home options, you can explore our floor plan options, call and talk to one of our design consultants at 800-258-9786 or fill out this short online form.
POST. BEAM. DREAM.™