Barn homes may be a misleading name for the homes Yankee Barn builds. However, there is no getting away from our name. Instead, we embrace the idea that any home we build has either a lot, some, or just a touch of barn home space. With a top-notch staff, we design engineer and build some of the most unique and stylish homes in today's market. We build in all architectural styles, always keeping the homeowner's vision at the forefront of mind.
From Beach Houses to Off-the-Grid; We Go There
Just this year, Yankee Barn Homes has built/is building the following homes:
OBERON HILL: a contemporary farmhouse that when completed will use primarily solar energy to run the home. The wall of windows across the side of the home facing the sun will pull double duty providing solar gain and gorgeous views.
BEACHCOMBER: This house is going to be absolutely stunning. Build right at the ocean's edge, the home is ideal for families wanting both togetherness and space.
HAYFIELD: A serious contender for the most fabulous modern barn farmhouse style, ever!
HILL HOUSE: A Mid-Century Modern revival with all the bells and whistles. This one's a beauty.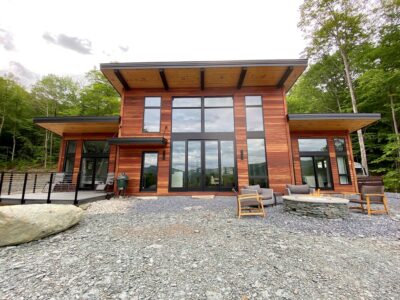 SEMINIOLE: Gorgeous nod to an ocean-side Shingle Style family compound. Siminiole is a small version of the grand primary house, Seminole.
TIDEPOOL COTTAGE: Built on Martha's Vineyard as a tiny cottage, Tidepool is a perfect get-away cabin for one or two people.
WATERVIEW HAVEN: Stunning ocean-view home set on a knoll overlooking the Atlantic Ocean. Hard to top!
COMING SOON: Winslow Farmhouse, a home, artist's studio and farm that will be entirely Off Grid.
If you would like more information about Yankee Barn Homes you may explore our floor plan options, call and talk to one of our design consultants at 800-258-9786, or fill out this short online form.
POST. BEAM. DREAM.™