When planning your new post and beam home, barn house gathering spaces come under the heading of  "must have". Whether reading any of today's many real estate publications or in speaking with realtors directly, you'll come away with the same basic knowledge regarding today's families and how we live in our homes. It doesn't seem to matter if we're a family of two, three, four or more; the requirements are pretty much the same: today's family needs gathering space(s).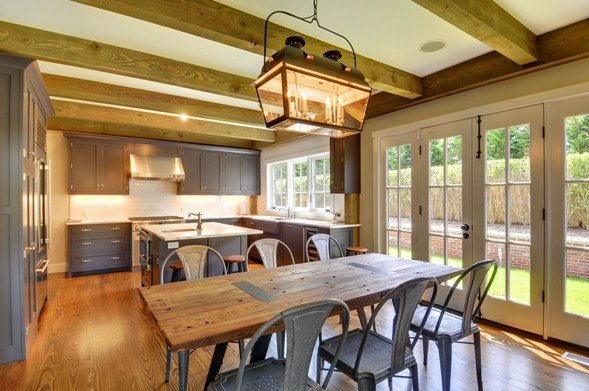 Barn House Gathering Spaces
Due to the lifestyle we lead, today's homes are planed and built with social, or gathering, spaces incorporated into the floor plan. These spaces can be part of an open concept kitchen (as see in the opening photo, above), or a large family room, a living room and or media/TV room.  The rooms designated as "gathering spaces" are as individual as the homeowners, but all have the same goal in mind: a space for friends and family to congregate. Here a few that we think are perfect for any size get-together.