It's spring, and that can only mean one thing; it's time to seek inspiration from our barn home outdoor spaces. We have some beautiful examples to show you. Our clients not only build spectacular post and beam homes, they landscape the areas around their new homes in beautiful detail. From decks and porches to patios, outdoor kitchens, pools and pergolas, Yankee Barn's clients create fantastic outdoor areas for family and friends to enjoy. We think you will, too!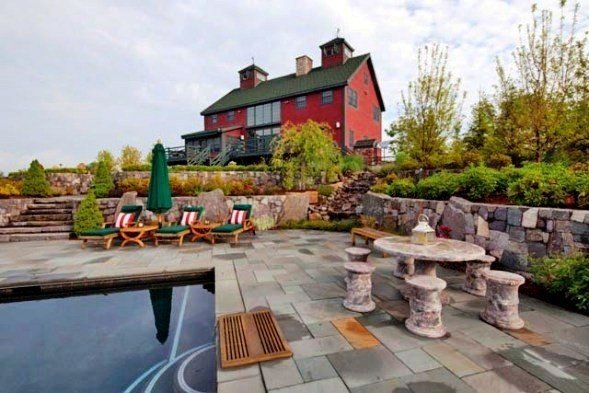 Barn Home Porches
Like barn homes, their porches come in all styles and sizes, as well as enclosed, screened, or open. Here are a few of our favorites.
Barn Home Decks and Patios
Like porches, decks and patios come in all shapes, sizes and styles. These photos represent a few which inspired us.
Pools and Ponds
During the warmer months, being close to water is a natural desire for many of us. Not only for the cooling effects, but for the serene beauty and calming influence of water. If you are not fortunate enough to live on a lake or ocean, no problem; a pool or a pond works nicely, too!
Outdoor Kitchen
This back yard pool and outdoor kitchen area was built to compliment a gorgeous barn style Yankee Barn in the Catskill Mountains of New York. Used as a second home for NYC dwellers, this place is a one-stop, all needs fulfilled, source of fun for the family and friends. NOTE: the opening photo in this post is also from the same Yankee Barn home.