Nestled in the rolling hills of Connecticut is a barn and silo with spectacular views; a bucolic New England scene to be sure. Our for-bearer's really knew what they were doing when they built these places hundreds of years ago. While all this is true in theory, it's not the truth for this particular home. Nothing but a run-of-the-mill stick built 1990's gambrel house was here 8 years ago. The barn and silo are new and their addition took the look and feel of this property from the a fore-mentioned "run-of-the-mill" to WOW!
There were three key elements which made this property what it is today:  Yankee Barn Homes, their talented design team and Dan Bristol of Dan Bristol Construction, Inc. The homeowners had a pretty good idea what they wanted and found Yankee Barn Homes in Grantham, NH to be the perfect fit to assist them in achieving their goals. Among other things, they had salvaged a 1950's gas station glass and metal door which was to be front and center in their new home. Okay, this was not going to be the average design and build. A cantilevered cat walk and a floating stairway were two more requirements. Oh yeah, did I mention the kitchen was going in a silo?
Pictured above are the repurposed gas station doors. They meld beautifully with the polished cements floors and the steel rails on the stairs. Best of all is the natural Douglas Fir of the post and beam frame, as it creates the perfect backdrop which ties the contemporary look together.
There is so much steel and glass in this home, it could have been over-powering. But the addition of the natural warm tones of the timber frame combined with a tongue and groove cedar ceiling, turned what could have appeared cold into hot! hot!! hot!!!
Hands down, this was the most unusual kitchen area Yankee Barn Homes had ever been requested to design. First, as mentioned above it was to be in a silo, hence round. The owners wanted an authentic look of corrugated metal to be used on the interior to mimic the silos in the area.
The kitchen itself is a work of art. From the use of color to the elegant leather bar stools, to the pendant lights; this space has its act totally together!
If you're a lover of all things modern and contemporary and love the look of a post and beam frame, this home is a gold mine of inspiration.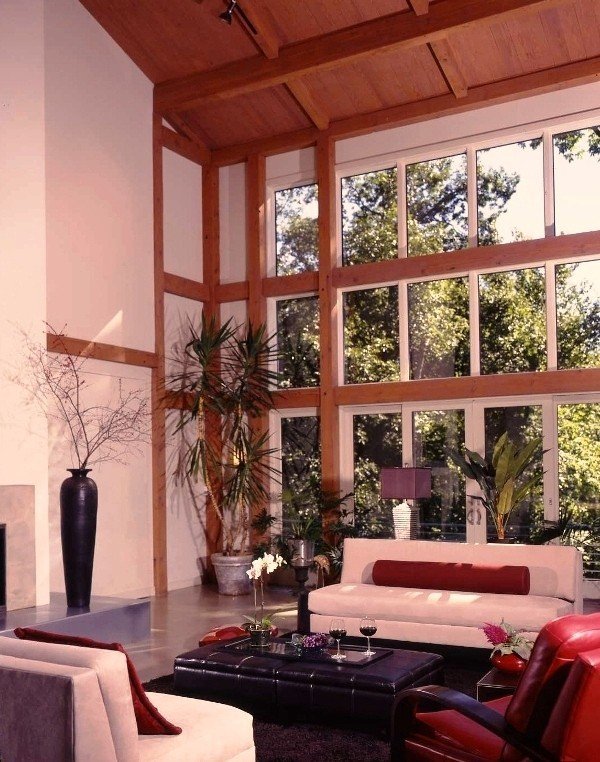 Believe it or not, I've saved the best news for last. Yankee Barn Homes and Dan Bristol are at it once again, collaborating on a new farmhouse in the hills of Connecticut that promises to have its own unique spin on the contemporary style. This time, Post & Beam Living has been invited into the inner circle to chronicle the development of this house as it goes from design stage through completion. The projected date for "photo ready" is sometime in the summer of 2012. We'll be right there, following it through each stage. I've already gotten my hands on some fantastic renderings, so stay tuned as we'll be posting on the new farmhouse as it moves from drawing board to reality!