Like 2020, 2021 will place focus on new and emerging technologies, durable architectural elements, and conscious design. It should also be noted that architecture today is a kind of reflection of social trends. The pandemic is having an unmistakable effect on new home designs and how life is lived within them.
Smart Home Technologies
Already one of the fastest growing trends in home design, smart home technology is moving from a 'plus' to a 'must'. Temperature and lighting control can now be voice or motion activated. Touchless faucets, once thought superfluous, are now an inexpensive and a health-conscious upgrade. Systems that filter air and monitor air quality will become more common.
A More Passive House
Energy-saving technologies as an architectural trend will include site location for best use of solar energy, use of polyisocyanurate insulation (rigid foam board), energy efficient windows, and an air seal plan.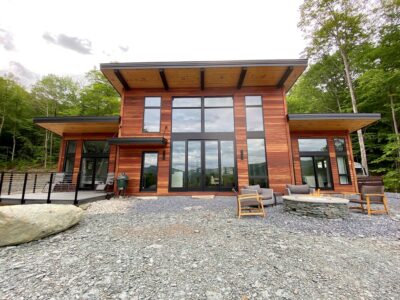 Flex Rooms
Spaces serving multi-functions with movable, convertible, flexible furniture is another design tactic that can meet numerous needs. By using flexible furniture such a Murphy bed or sleeper sofa that folds up when not in use, multiple uses for the room are possible.
Home Office Prioritized
As more businesses relax work-from-home policies, or shift to full-time remote work, the home office will become an essential for many homeowners. A space that was once an after-thought now will need to offer privacy, good lighting, and be pre-wired for telecommuting.
Semi-Closed Floor Plan
Sharing more time and space at home demands privacy for schoolwork, hobbies, and entertainment. While the open common space of kitchen, dining and living areas remains high, we could see a rise in demand for semi-closed floor plans. Semi-closed defines some rooms as partitioned off, according to purpose.