The barn house at Oyster Shores is moving along quickly. If you are unfamiliar with our most
recent build project, please see this link for an introduction and floor plan information. Since the first post when Yankee Barn Homes introduced this new expression in barn home design, a great deal of work has already been achieved, both at our plant and on site. Let's take a look!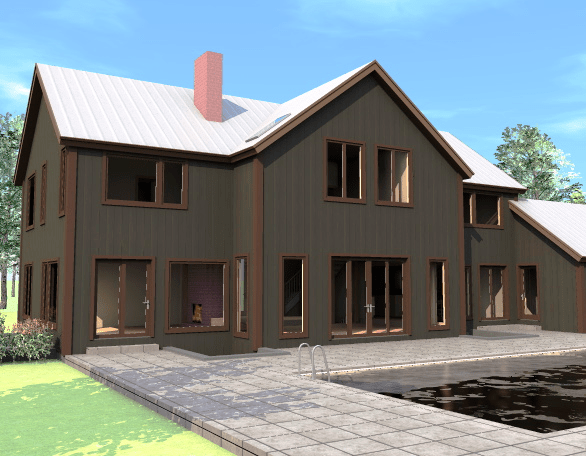 Barn House at Our YBH Plant
The panels for the Oyster Shores barn home are already built! Here are photos from last month as they were under construction.
Barn House at The Oyster Shores Site
While the barn home was being built back in New Hampshire, the site work on Long Island had begun.  Located in a community named Hampton Waters in the township of East Hampton, the Yankee Barn home will sit on a half acre lot which overlooks Three Mile Harbor, an inlet off of Long Island Sound.
Barn House and Site Begin To Merge
The panels have arrived, the site has been prepped, and look what's happening now. I am so excited to see what Jeffrey Rosen has up his sleeve for this barn home!
Please check back in to Post and Beam Living over the next few months. I will be posting regular updates as this barn home progresses.