It's not every day you hear the phrases "shingle style" and post and beam" in the same sentence, but in this case, they can't possibly be separated. A new project by our very own Jeffrey Rosen is currently underway in East Hampton, NY. This time it's Jeff's version of the wonderful turn-of-the-century style best exemplified by the firms McKim, Mead and White and Peabody and Stearns during the late 1800's. Then, the very well-to-do desired "seaside cottages" in the small towns of the New England coast, so the architects mentioned above (plus a few other notables) designed those gorgeous (and sometimes grandiose) homes on the shores of southern New England (think Newport, RI). All you need do is Google the term Shingle Style to immediately recognize some of these mansions.
A Yankee Barn Post and Beam Shingle Style Home
Fast forward some one-hundred-thirty years and you find Jeffrey Rosen taking his cue from the masters of the past while adding his own 21st Century touches to create a shingle style post and beam for today in the hamlet of East Hampton, NY.  You will immediately recognize similarities between the two structures while also noting the more sensible size of Jeff"s version. Some of us enjoy large homes, however, they are measured in footage, not acreage! But the same overall principles apply; continuity of flow and space, inside and out, while also perceiving the structure as  a continuous form of mass and volume that works on a practical level. Primary to this principle is curb appeal; the home must be pleasing to the eye. These homes are designed to make our emotions long for them. The phrase "imagine living here" is often thought or spoken when viewing a Shingle Style home.
Today I'm going to show you what Jeff has been up to these past few months, then finish with a peak at what you'll see if you check back in a few weeks time. This house is going to be fantastic!
A Preview Of The Post and Beam To Come
So, the pictures you have see thus far were taken in the early spring of this year. Much progress has been made in the intervening months and the house's exterior has really come into it's own over the course of the summer. A sneak peek is in order here to "whet your appetite" for things to come. Take a look at where the house is today.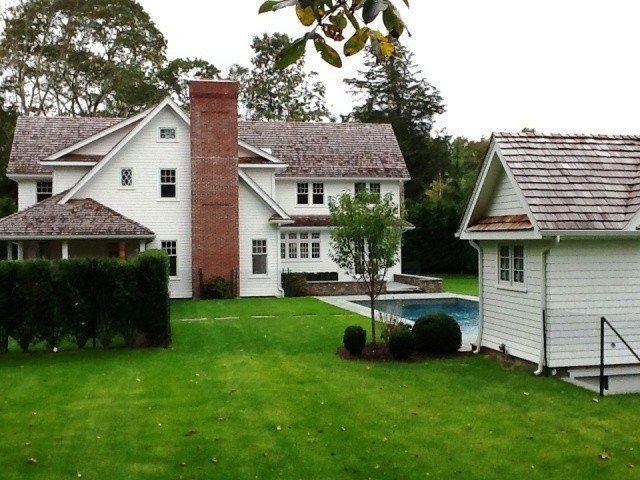 If you would like more information about Yankee Barn Home options, you can explore our floor plan options, call and talk to one of our design consultants at 800-258-9786 or fill out this short online form.
POST. BEAM. DREAM.™
[ybh-cta]