Always buy quality in these 5 Yankee Barn Homes build categories is a post which came about as a result of my own build experience. When building a post & beam home it is important to keep two things in mind: a budget and a detailed plan, while understanding you're likely to amend both throughout the build process. It is easy to go over budget when building a home or home addition. That's why I recently wrote a post titled Yankee Barn Homes: Five Suggestions to Lower Building Costs.
However, as important as it is to save when building a post and beam, there were five areas I realized it was wiser to buy quality when building our Yankee Barn Homes carriage house.  Here are the areas, and the reasons why, I didn't downgrade in order to shave money from my total construction costs.
Windows

I can't emphasize enough how important my windows are to the overall look, comfort and energy efficiency of my home. Buy quality windows; it will make a world of difference.
Most Yankee Barn Homes, especially those done in the barn-home style, have at least one room (usually a great room or a master bedroom) with a cathedral ceiling and floor-to-ceiling windows. Windows can provide far less insulation than walls. The windows in my home are the Anderson 400 series; well insulated, well constructed, and well worth the money. By downgrading to smaller windows, I may have saved about $3,000 (for my whole carriage house) but the comfort and energy efficiency of my home would have decreased a great deal.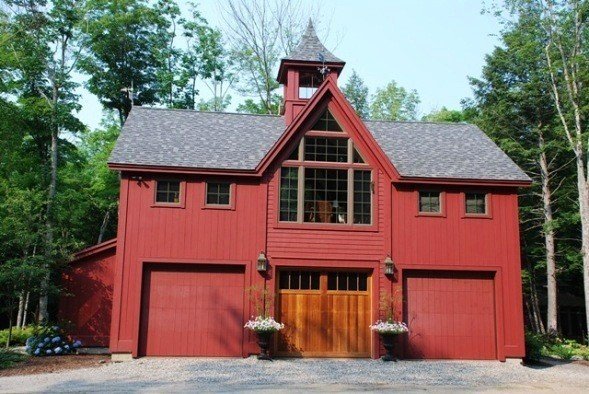 Doors and Door Hardware
Most timber frame homes are made with a high quality kiln-dried Douglas fir, giving the home a solid look and feel.  The doors shouldn't sound hollow and the door hardware (the parts of the home that you touch and move fairly often) should feel like something substantial and solid when you grasp the knob.  You know the type of door…the "wood" appearance is a little too plastic and the hardware doesn't look or feel weighty.  Since timber frame is all about quality construction, lesser quality doors and knobs stick out like a sore thumb.
Insulation
Insulation is important; very important.  I have foil-backed polyisocyanurate insulation in my True Wall (R-28.4) and True Roof panels (R-34.7) and my heating and cooling bills are extremely reasonable.  I never feel a draft. If I'd downgraded to a less expensive insulation, I would have only shaved $1,500 off my total construction costs.
 The Heating System
Seriously consider a forced hot water or radiant hot water heating system in your post and beam home.  Even though forced hot air can be less expensive, hot water is the better choice, and here's why:
Post and beam or timber frame homes have a lot of wood on the interior.  Even though most post and beams are made from a high quality soft wood such as kiln Douglas fir, the beams will still be sensitive to changes in heat and humidity in the air.  Wood, even kiln-dried wood, is like a sponge and it will absorb the moisture in the air.  When the air dries, the wood will also dry out, making a "popping" sound as it contracts.  Forced hot air heating systems circulate very dry, hot air.  Some home owners who have forced hot air heating systems reported the popping noise as so loud that they thought gunshots were being fired in the house!  This not only scares the heck out of you when you're sleeping, but also results in "checking" (cracking) in the beams.
[/toggle]
[toggle title_open="Close Me" title_closed="Fixtures and Faucets" hide="yes" border="yes" style="default" excerpt_length="0″ read_more_text="Read More" read_less_text="Read Less" include_excerpt_html="no"]
Fixtures and Faucets
The reasoning behind spending, not scrimping, on fixtures and faucets is similar to the reasoning for #2 (Doors & Door Hardware).  Timber frame homes cost more per square foot to construct than stick built homes, but people like the sturdiness, quality and longevity that epitomizes post and beams.  Every fixture in the house you touch/manhandle/twist/turn/swing/flip/switch, should feel just as sturdy as the beams that hold up your house.
Note: If you have three bathrooms and spend an extra $300 on your sink and tub/shower fixtures in each, that's only an extra $1,800 to your overall construction costs.  Upgrading your kitchen fixtures and key lighting fixtures to higher quality materials can be done for less than $2,000.
[/toggle]
If ever the day comes when you sell the house, potential buyers questioning the quality (and therefore the price) of your home due to sub-standard elements in any of these five areas, would be very unfortunate.  Spend the money up front; you'll be glad you did!
Should you like further information or have questions, please contact Yankee Barn Homes at 1-800-258-9786.
POST. BEAM. DREAM.