Not one, but two barn homes are currently under construction by Yankee Barn Homes in The Hamptons. WOW! Just the phrase "The Hamptons" conjures up thoughts of gorgeous homes, expansive stretches of pristine beach, and totally bucolic scenery. Add in the handsome look of two post & beam Yankee Barn Homes, and you've got magic.
Both barn homes in East Hampton are the brain-child of Jeffery Rosen of Jeffery Rosen Interior Design, Inc. and his business partner of ten years, Gerard Mingino. Jeffrey is also the current Creative Design Director at Yankee Barn Homes in Grantham, NH. In this post we'd like to take an in-depth look at the first house to go up, hereafter known as 53 Toilsome Lane.
Yankee Barn Homes In The Hamptons
This Yankee Barn home has been designed and built to look like a traditional low-key barn with the exterior sided in a board and baton pattern using a semi-transparent white stain (allowing the wood grain to show through). Let's take a look at the first and second story floor plans, then delve deeper into where the post &beam barn is today in it's build process (Please click on a floor plan image to enlarge).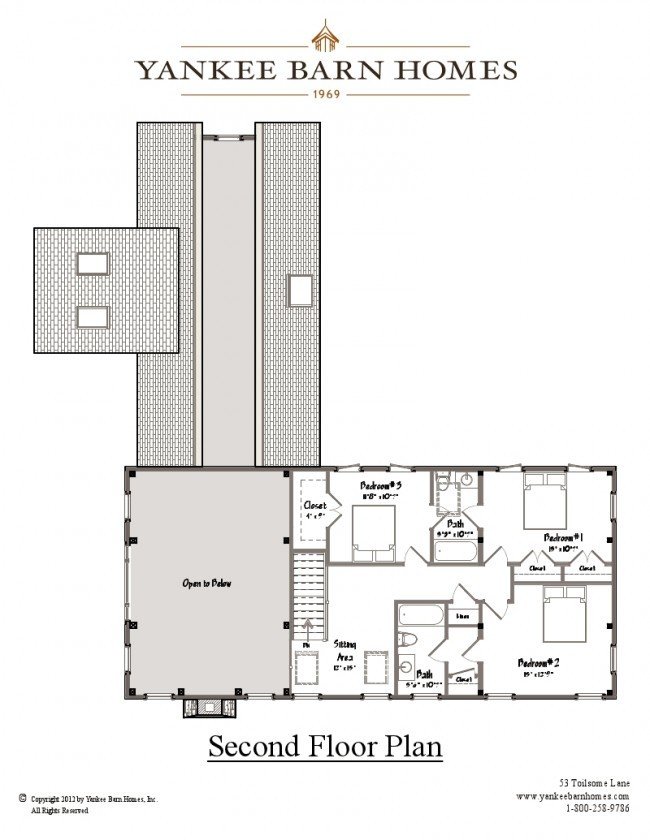 [divider]
The main body of the house has the traditional Yankee Barn Home full height living room with two and one-half stories of glass. There is also a small antique pine-paneled library, a second powder room and master suite on first floor. The second floor has three bedrooms, capturing all the " barn style" high ceilings with beams showing, two baths, and children's television/media area.
The basement runs under the entire house with 10 foot high ceilings, over-sized window wells, and a separate walkout entry. It includes a one bedroom guest apartment, a second bedroom, a media room, a second living room with fireplace and a gym. There are two bathrooms in basement – one for the guest apartment and one for the second bedroom. Floors are tumbled grey travertine pavers with radiant heat. Let's take a look at where this house is in it's build process.
[tabs style="default"] [tab title="Construction Begins"]
Construction Begins
Just a few mere weeks ago, the post & beam barn home at 53 Toilsome Lane looked like this
Ruff-cut roof cedar shingles go on, along with a galvanized steel gutter system while the cupola is already up. Wow, these Yankee Barn Homes in The Hamptons are going up fast!
Around the back, the bump-out breakfast nook is visible, as are the openings that will soon contain French doors for both the nook and the dining room.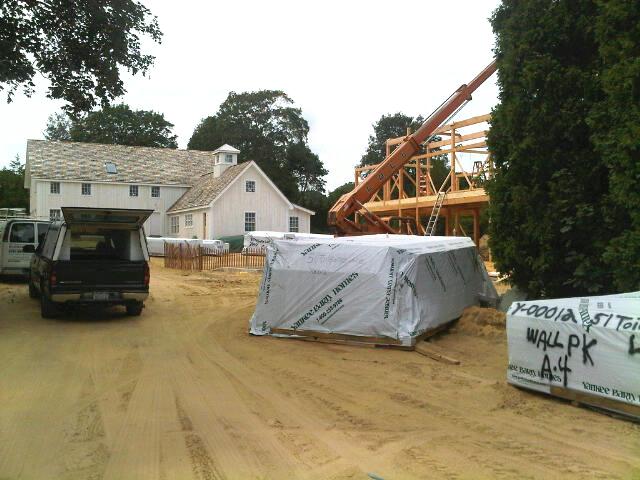 From the long view down the "street", we can see the Yankee Barn at 53 Toilsome Lane is nearing completion as another at 51 Toilsome Lane begins it's own building odyssey, but more on that English style barn home in the next post! Before we go inside for a first-time look, I want to show you the garage which sits smack in front of the house, cut in to the hill that the house sits on, giving the appearance of an old farm root cellar or storage shed. When the property is landscaped, this area is going to be a favorite of mine, I can already tell!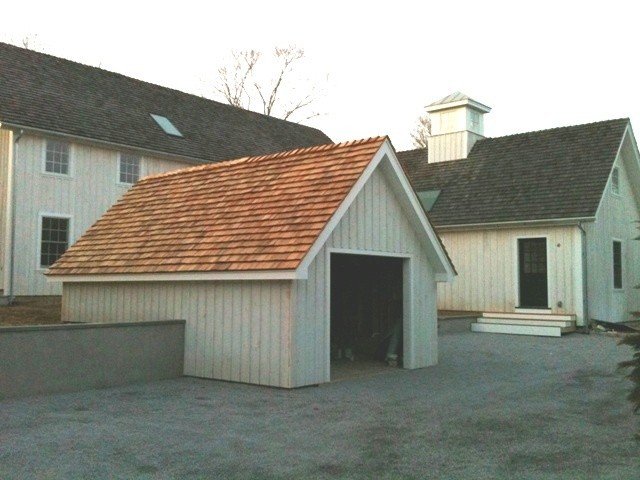 In this next picture, you can see a perfect size courtyard is taking shape between the two back doors. Fabulous!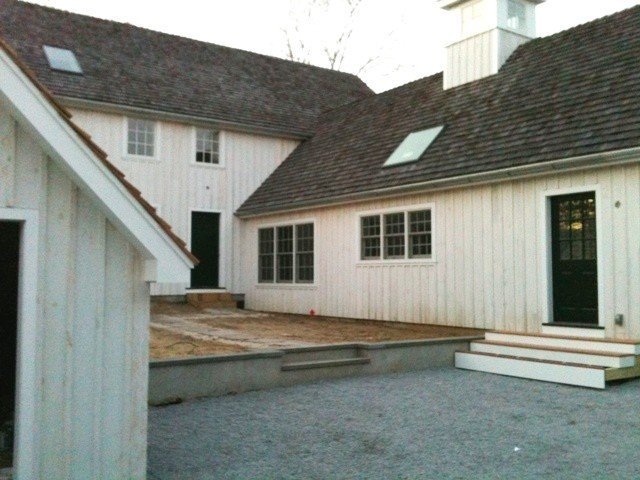 [/tab] [tab title="Interior Pictures"]
Interior Pictures
While this house is still a ways from "turn-key" ready for it's new owners (Yes – this Yankee Barn Homes in The Hamptons is for sale!) fixtures, some furniture and appliances have been installed. Oh, and did I mention this house is smart wired; one system allows you to link audio, alarm, lighting, cameras and the heating system together and control it from anywhere in the house, or remotely. For example: you can be in NH and change the temperature, see who might be around by way of a camera system, and turn the heat up or down. Smart home!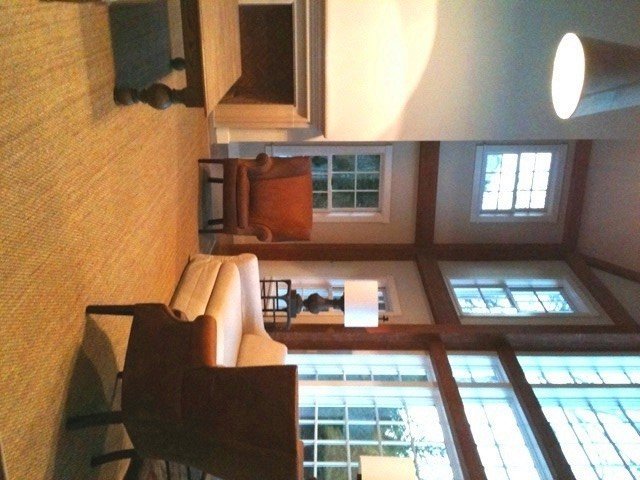 The great room begins to get "staged"…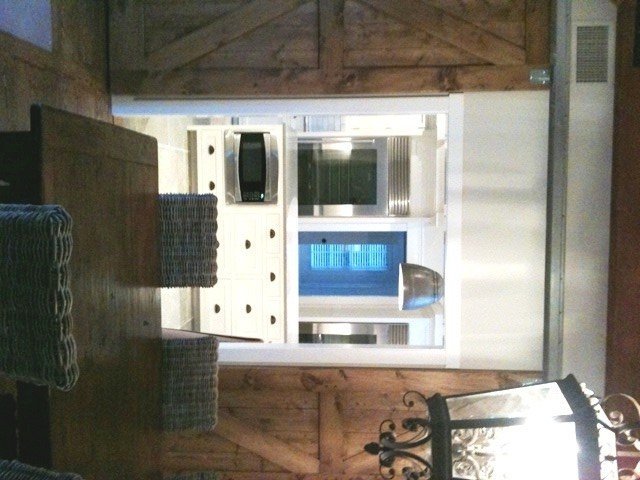 …then you step down three steps into a beautiful dining room…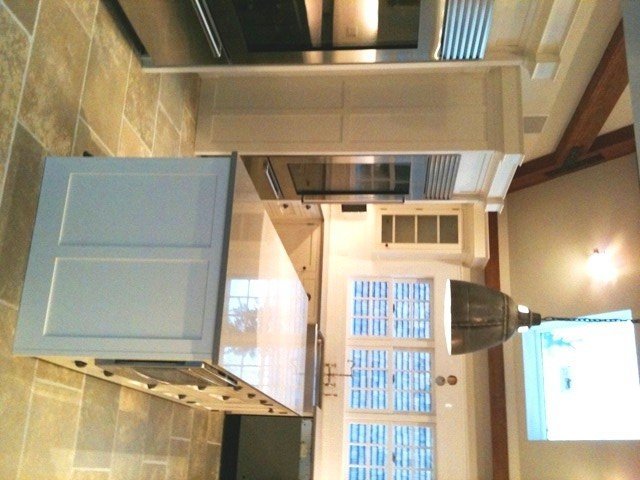 …and through two beautiful sliding barn doors into a stunning post & beam kitchen. WOW!!!
[/tab] [/tabs]
Be sure to check back with Post & Beam Living as these Yankee Barn Homes in The Hamptons are certain to get the full professional photography treatment once completely finished – including landscaping. I guarantee they will be worth the wait!