Economic times are rough right now. None of us needs to be reminded of this fact. However, swinging to the extreme of going into "lock-down" and behaving as if it's the end of the world is not healthy for us or the economy.
So, let's take a look at the middle, as this is often where common ground and reasonableness are found. In the world of Post and Beam Living, this often means considering the following when building: 1) keep the foot print of your building a rectangle – bump outs and ells up the price of any building project , 2) build a hybrid timber frame – put the post and beam where it's going to get the biggest bang for the buck, and, by far my best advice: 3) build a carriage house.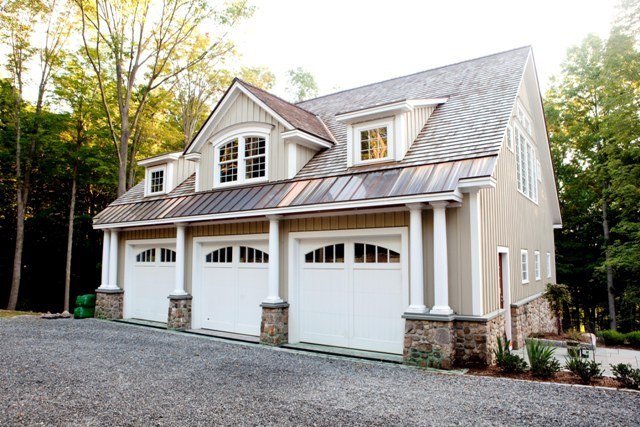 Like a house, a carriage house has living space, but also incorporates a goodly amount of storage space, all within the confines of a rectangular footprint. As witnessed by these photos, the look and style of a carriage house can be anything you like, and the advantage to using a post and beam frame (or hybrid) means you are not constrained in your options of open space. Vaulted ceilings and larger "rooms without walls" are easily achieved.
Heating and cooling these structures is a fantastic savings. I can tell you this first hand as I live in a new post and beam carriage house which uses radiant heat in the floors for the colder months and central air conditioning for the hotter months. We spend far less on heating and cooling our carriage house than when we lived in a conventional "stick-built" home of the same square footage.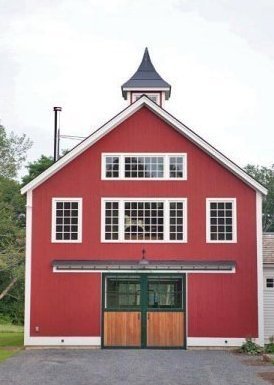 How you'd like your carriage house to appear and how you want it to function, (primary residence, secondary or vacation home, guest quarters or "other"), is entirely up to you.  Here's what some owners have done thus far: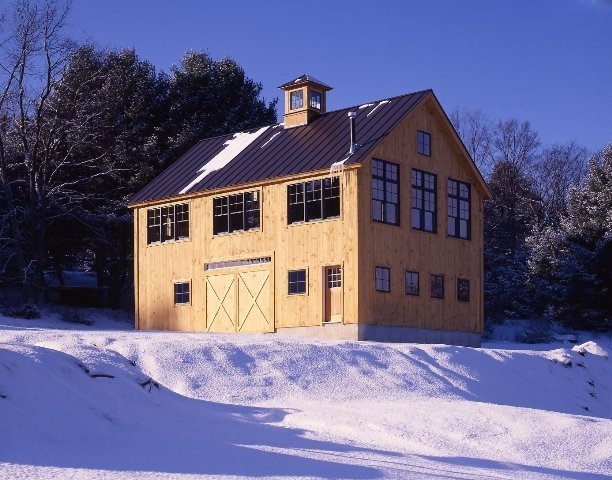 The carriage house pictured above is located in the Green Mountains of Vermont and is used by its owners as an all-season vacation home. Whether it's skiing, biking, hiking or trail riding, they have the perfect spot and the perfect structure to accommodate their active lifestyle.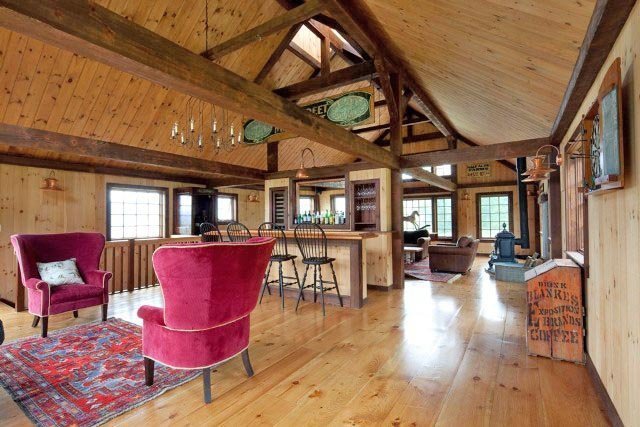 This carriage house would come under the heading of "other" , as its upper level is one open expanse used by the owners for large family get-togethers and by the adults as a place to throw fantastic parties.  The lower level is used for outdoor activities storage and as the husband's workshop area.
This carriage house is a primary residence (mine, actually). Interesting story: it started out to be the guest house that my husband and I would live in while our main house was being built. As we lived in it while designing and planning the main house, a funny thing happened. We came to the conclusion two people didn't need two houses on the same build site. So here we are and we couldn't be happier!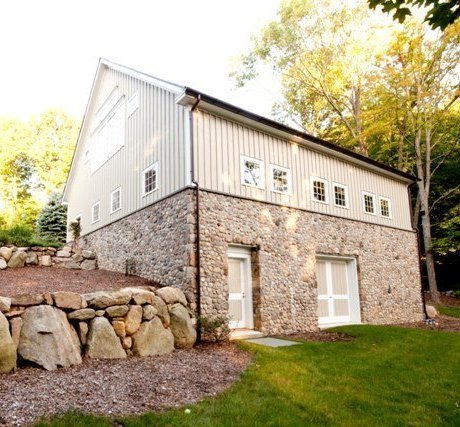 Now back where I started, with the first carriage house featured in this post. The top floor is guest quarters, the middle level is garage space for cars and the lower level is used for storage and houses all the utilities for the structure, with space left over to be used as the owners desire.
All of these things, plus many more, are possible when you build one of these energy efficient carriage houses. Start planning today!
[ybh-cta]