I wrote a post on this barn style home three months ago; Yankee Barn Homes Open House in East Hampton, New York (to see the interior of this home, please click the link). At that time the house had just been completed inside and the exterior landscaping was underway. Now it's almost July and the wait is over. The exterior is finished and the time we had to abide was well worth it. This Yankee Barn Homes exterior is really something. From the classic use of sliding barn doors, to the pea stone courtyard, to the tasteful "keep-it-simple" philosophy for a barn structure, this home hits the mark every time, and then some!
Upon turning the corner of this drive, you glimpse not the front of the home, but the side, with sliding barn doors and a barn-style pent roof in evidence. The entire area, including up to the front door, is done in pea stone to achieve an expansive welcoming effect.
The front of the home is simple, yet elegant, in its understated presence. Nothing ostentatious here, just an unadorned barn with classic good taste inside and out.
The colors chosen for the exterior are perfect for the barn style home. Two shades of taupe predominate; one light, one deep-toned and warm, are used with great effect. The "keep-it-simple" philosophy is again on display with the repeated use of the sliding barn doors and a single classic 19th Century style lantern over the entrance.
On the far side of the house, a perfectly maintained hedge-row begins, suggesting  it might lead to something interesting.
 Indeed it does, a much taller row of hedges with a double door gate. Hmm…where or what might this gate lead to?
An adorable carriage house/guest cottage sits at the far end of a stone-walled patio!
How perfect is this little cottage? Tucked quietly in back of the home, it adds everything while detracting nothing from the main structure.
But wait, there's more…. 
Ah…, there it is – the pool;  and what a pool. The theme of simplicity is here as well, through the use of a narrow edged coping and grass yard surrounding the pool. Even the water-spout features are strategically placed behind simple zinc planters, allowing nothing to detract from the integrety of the back yard area.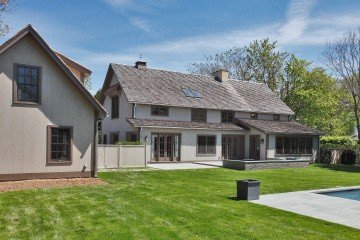 So bring on the summer sun and fun…this barn home by Yankee Barn Homes in East Hampton is READY!