My family is originally from Vermont and, other than college, I've never lived farther than the boundaries of New England, so I have a true affinity for the architecture of the Northeast. Particularly this house and carriage house, as it just so happens to be located within 15 miles of where I grew up.  No, I am not related to, nor do I know the owners. It's just one of those interesting coincidences in life that I came to marry someone in the post and beam home building business and said business happened to build a carriage house within shouting distance of my hometown.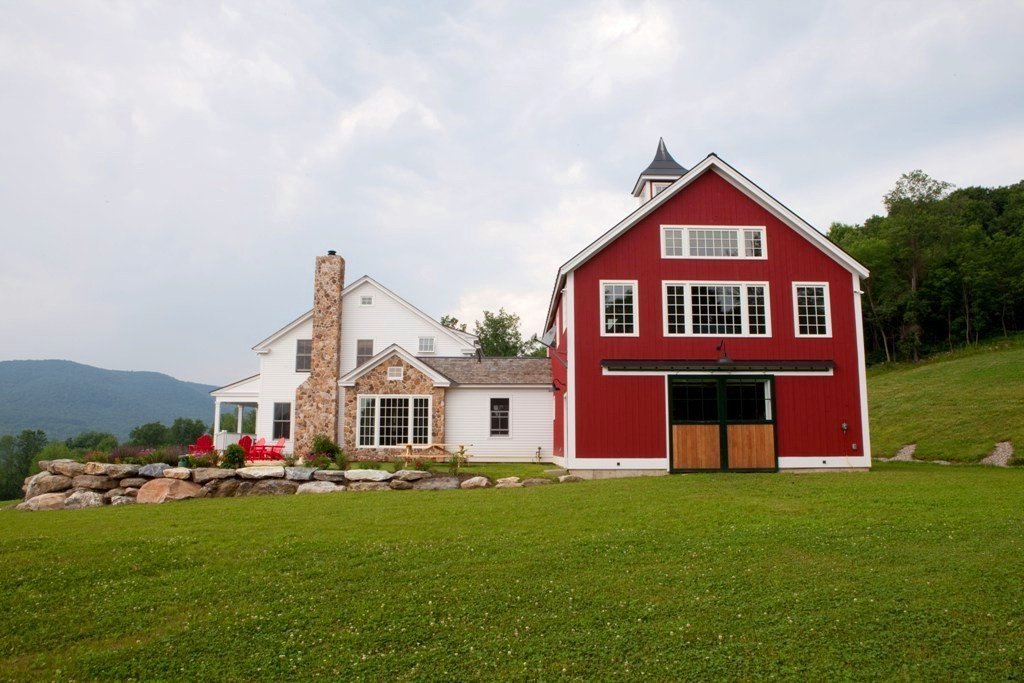 Hey, what can I say? That's not entirely atypical here in New England. But this post isn't about me, it's about this striking Vermont carriage house. Set on the hillside of a rural Vermont township, it presides over one awesome view of the Green Mountains.
Built to compliment the Vermont vernacular farmhouse, the carriage house is meant for fun and relaxation. One look at the interior of this barn and you understand immediately, this structure is all about playtime, be you young or old.
The floor plan on the upper level is entirely open save the double-sided bar in the middle and even it can be opened on both sides for ease of access.
While one side is set up as a bar and gaming area…
…the other side is set up for relaxing and TV viewing.
The lower level of the carriage house is also all about play, specifically, outdoor play for all the seasons the state of Vermont has to offer.
This is where the "hybrid" part of this carriage house is visible.  I'm sure you noticed the full post and beam frame on the upper level of the carriage house while on the lower level, it's immediately obvious no post and beam frame was used.  This was done on purpose as this space is totally dedicated to utilitarian use.
From an exterior vantage point, it becomes immediately obvious this beautiful farmhouse would look incomplete and less stately without the addition of the barn carriage house. It is the anchor building which ties this bucolic scene together. 
Ah… to live in this perfect place. It would indeed be gratifying!