I feel the need to confess something; I'm one of those people who LOVES to decorate a room, live with it for a bit then begin the move-it-in, move-it-out, or move-it-around process. Redecorating is in my blood.  But before you think I'm a person who loves to throw money around – think again. I'm quirky, not crazy!
This brings me to today's topic: I just re-did the redone basement of our Carriage House (please see The Timber Frame Two-Step for my first incarnation of our garage). Hey, its spring and living here in the northern part of New England we call this "Winter, Take 2" (a.k.a., mud season). As I did this, we were expecting  over an inch of rain, it was a balmy 37 degrees outside and I needed to entertain myself or go truly crazy!
First, a quick reminder of what the garage area of our carriage house looked like after I got my hands on it the first time.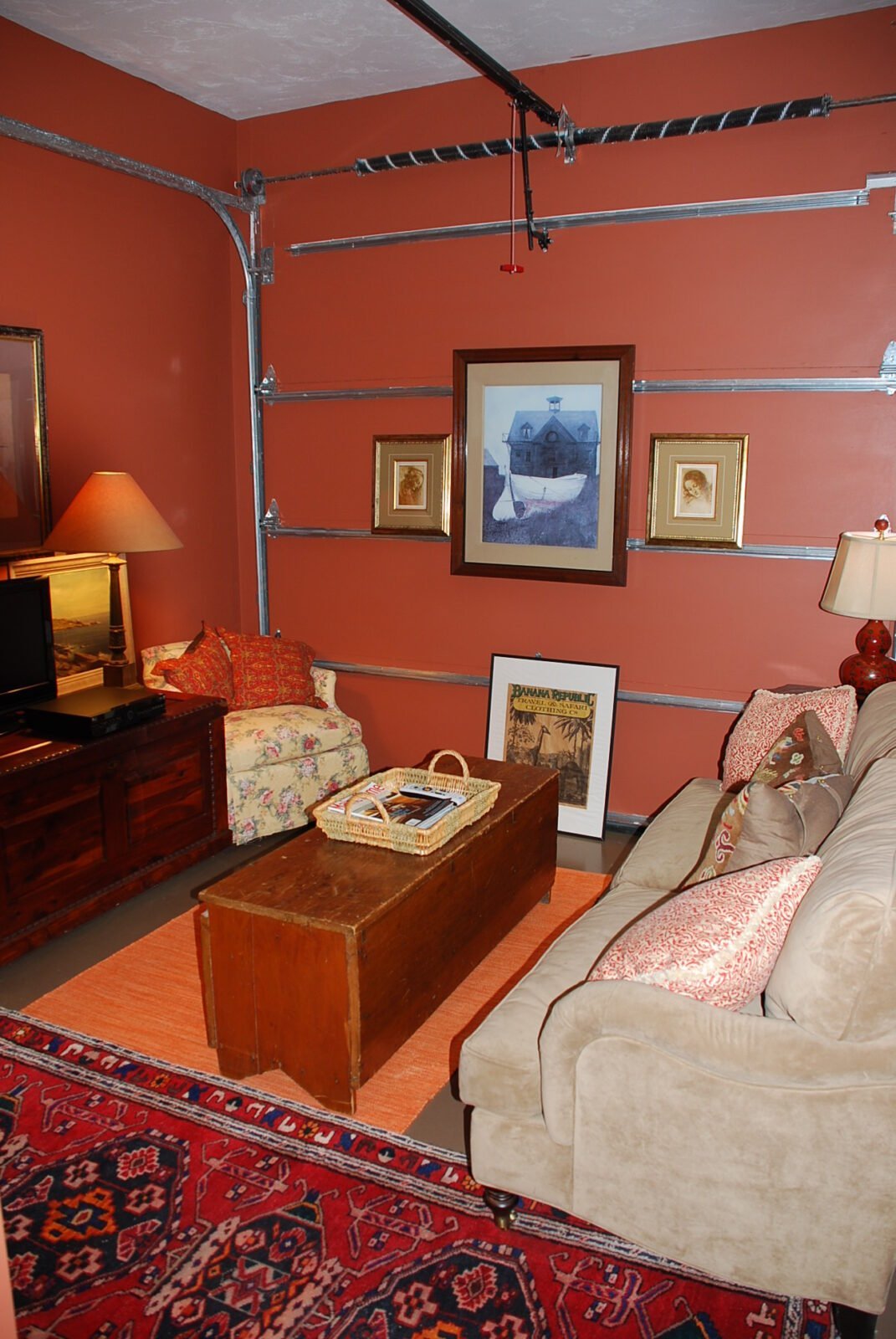 These two pictures will give you an overall idea of how the two rooms used to appear.
What I'd like you to know is not much money was spent on this redo. I purchased the closet pole you'll see being used as a curtain rod at Home Depot for around $20.00 and the spackle (because my dog, Violet, chewed the top of my other one)  used to move the cable box for the TV, for under $10.00. That's it! I didn't change the paint colors because I'm still liking the Mayflower Red by Benjamin Moore on the walls and the Huntington Beige (also by B.M.) on the trim and folding screen.
Let's get started: I decided to basically switch the two rooms. The current bedroom and TV room were about to "trade spaces". In order to achieve this, I needed to move the cable box from one room to the other (thus my need for the spackle mentioned above).
The first time cutting into a wall you panic a little, but from there on in, it's like riding a bike, you just do it. Once that was done it was time for the fun part, moving all the stuff around, dragging rugs out of storage, putting up the new closet pole to use as a privacy curtain for the bed, etc…  I will not bore you with pictures of us slaving because there really was not that much slaving. It took two of us about 3 hours (including moving the cable box) to affect this change. Here are the completed "new" rooms.
A few details about what was done in this space: the cable box had been located just below where the mirror now hangs. That ugly black box you see plugged into the wall is the "cradle" for our computer wireless system.  My husband tells me "it HAS to be where it is". If anyone has a good idea for camouflage, I'm open to suggestions. The pictures may look precariously perched on the garage door but in actuality, they are securely adhered to the door by way of museum putty – this wonderful stuff that's clear, mailable, stick-um which holds objects d' arte in place. It's by far one of my new favorite finds.
The wooden closet pole for the curtain rod was used for several reasons. First, we needed something that would go all the way across the room without sagging, and second, it needed to be inexpensive. The only problem then became curtain rings; I had originally wanted wooden rings but couldn't find them big enough to fit around the pole. Plan B: I bought metal shower curtain rings that clip around the pole and attached smaller clip-on curtain rings to them. Ta-Da, instant curtain hangers – problem solved!
One room done, on to the next…
A quick reminder: these are garage bays. The working door mechanisms remain in place purposely so we can change things out to use as we see fit at a moment's notice. I assure you, anyone who stays in these spaces tells us they don't even notice the doors. It's like living in a city loft space.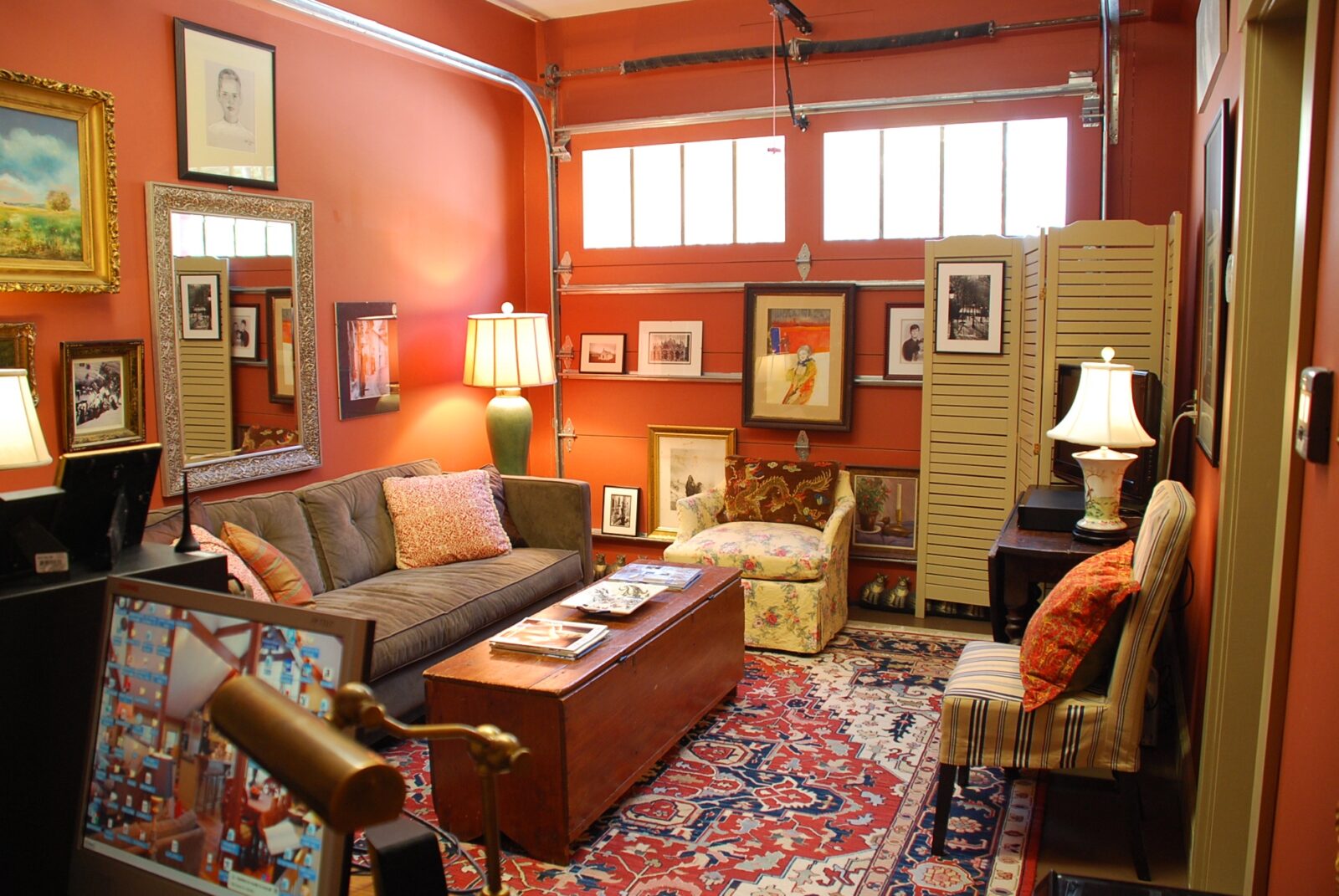 For those of you who might not have read the first post I did on converting our garage space to guest rooms (or my husband's Man Cave when guests aren't visiting), we did have radiant heat put in the floors when we built our carriage house as well as a 3/4 bath put in the third garage bay. Small spaces require forethought and planning. I believe we did quite well in both of those areas.
A view from the bedroom into the sitting area.
My current office space, which is soon to be moved upstairs because our baby grand piano is finally about to arrive! When it get's here, I'll update with a post – hey, it's what I do!!
Looking through from the third bay, which is used as a giant walk-in storage area.
Not bad at all, if I do say so myself!!