Lighting a timber frame home has a few specifics you may not find in other homes. Having just done one myself, I've discovered the use of chandeliers, track lighting, up lighting, pendant lights, wall sconces, floor lamps and table lamps were all necessary for properly lighting different areas of my carriage house. Here are 3 things I considered when I chose our lighting.
1) Lofted or Open spaces: It's more likely there will be lofted ceilings or open spaces that need to be appropriately lit.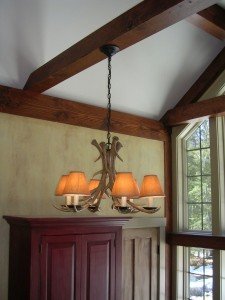 2) Exposed Beams: There will be exposed beams you'll want to highlight (literally), particularly during the nighttime hours.
3) Architectural Interest: Interesting architectural spaces are often created by the timber frame and you may opt to illuminate them, much like works of art. After all, that gorgeous post and beam IS a work of art so show it off!